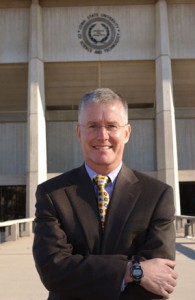 Years after leaving Iowa State to attend med school, Randal Cassling becomes an official ISU alumnus.
Randal Cassling
Diplomas line the walls of Randal Cassling's medical office in Omaha.
Universities including Nebraska School of Medicine, Texas, Kansas and Nebraska-Omaha are all represented. Nowhere was there a diploma from Iowa State University in Dr. Cassling's office.
That is until now.
This past December he finally graduated from Iowa State University after leaving a year prior to his graduation to enroll in medical school at the University of Nebraska.
"I have a lot of diplomas on my wall but this one (ISU) will not doubt be my favorite," said Dr. Cassling, who attended Iowa State from 1974-77 and is now a cardiologist in Omaha, Neb.
Iowa State has always held a special spot in his heart, even before he started as a freshman. Both his parents, Robert and Rita Lenore Dunn Cassling attended Iowa State. Robert Cassling is a 1956 graduate of Iowa State while Rita was a former Homecoming queen on campus.
"My fondest memories are the ones I have of my time at Iowa State," Randal Cassling said. "Part of the reason why I came to Iowa State was because my parents went here. But I felt that I was challenged by the academic rigor offered at this university. It was a wonderful place to go to school.
"I'm always been proud to tell people that I attended Iowa State University."
Because he had a chance to realize a life-long goal and attend medical school, he never graduated from Iowa State. His undergraduate degree is actually from the University of Nebraska-Omaha.
His mother, while proud of her son's academic achievements, tried for years to get her son an Iowa State degree. She was unsuccessful and Dr. Cassling gave up hope of it ever happening.
But recently when he was talking to officials from the College of Liberal Arts and Sciences, he mentioned his, and his mother's dream of getting a diploma from Iowa State. To his surprise it was granted.
He was officially honored and went through the graduation ceremony in December 2005, obtaining a degree in biology.
"It was a very proud moment for me," Dr. Cassling said. "I was a little teary-eyed for my mother (who is deceased). I'm guessing she would be a very happy lady to see that I finally have my degree from Iowa State."